Nonprofit Coachellart's moving mural inspires kids during Modernism Week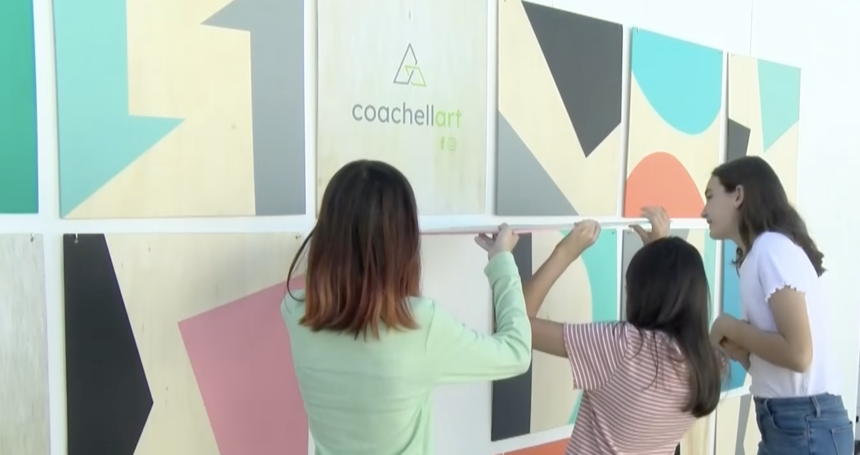 Modernism Week 2020 is now in full swing and News Channel 3's Caitlin Thropay was out there to see how kids are being inspired to find their inner artist.
"I love art and I love Modernism Week," local 6th grader, Bella Sheehan said.
Bella and her friends tapped into their inner artist during Modernism Week.
"Modernism Week is great because you get to put your own creativity into it," Skyla Cruz said.
The girls got creative thanks to local nonprofit, "Coachellart" who made their Modernism Week debut with this moving mural geared towards young artists and the young at heart.
We spoke with Executive Director of Coachellart, Patrick Sheehan to learn more about his inspiration behind this art for kids!
"We're moving kids to the site and moving kids to make art," he said.
It's all about getting kids excited about art.
"I really love that it's interactive and you can create your own art," Bella said.
And for some of these local kids, it's their first time attending Modernism Week.
"I like art," Isabella Byers said. "I've never been to Modernism Week but it seems pretty cool," she added.
And the best part is this mural is made by Coachella Valley students.
"It was painted by local kids from Palm Springs Unified School District," Patrick said.
Patrick believes more kids should be introduced to art at a young age and coming to Modernism Week is just one way to get them trying something new.
"We need artists and it starts with inspiration at an early age," he said.
"I wanted to categorize all the colors like blues together and pinks together," Cruz explained while showing us her artwork.
The mural they made also serves as the perfect backdrop for a photo-op.
Modernism Week goes until February 23rd.
You can find this mural by Coachellart in between the two white tents to the right of the CAMP tent off of Palm Canyon Drive.
You can learn more about Modernism Week here: https://www.modernismweek.com/modernism-home/
You can learn more about Coachellart here: https://coachellart.org/