Local boutique hotel debuts plant-based Tuesdays for a family-style feast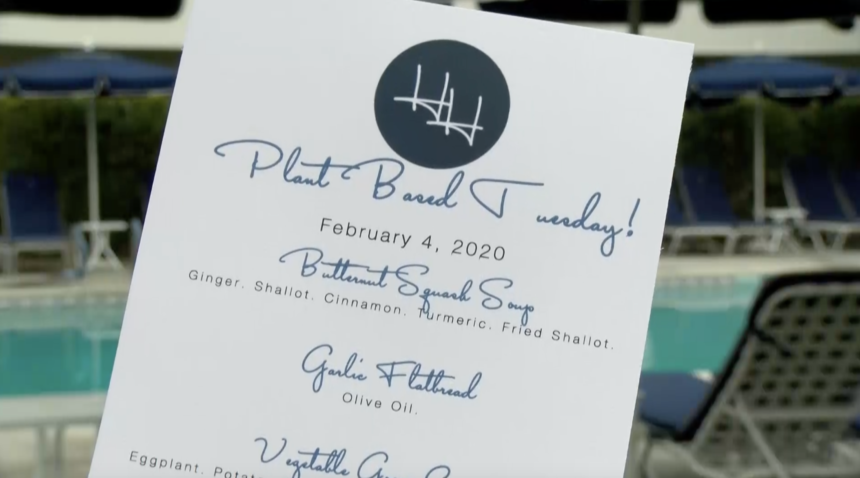 A vibrant boutique hotel in Palm Springs is introducing plant-based Tuesdays to its restaurant. Eye on the Desert's Caitlin Thropay met with the chef for a look at the new menu items premiering February 4.
Meat eaters and non-meat eaters alike are welcome to experience The Holiday House Hotel every Tuesday for its new plant-based family-style feast.
"I will come out and explain the whole menu to everyone," Chef Gabriel Woo said. "What we have here is a little jam and red oak leaf salad," he started.
Of course, Chef Woo is keeping it fresh, only using what's in season like fuji apple chips.
"We made an apple vinaigrette by reducing apple juice to almost a honey," he said. "You can use that to sweeten apple cider vinegar and just a little olive oil, seasoned with salt and pepper," he added.
He sources as much as he can locally, like lettuce from County Line Produce in Thermal.
Onto the next course now, which is a bit more hearty. "We bring out mains later so this is this is a vegan curry," he said.
"We made our own green curry paste using ginger, garlic, lemongrass, lots of spices in here like eggplants, potatoes, peppers and carrots," he explained. He says to eat this over the rice and red lentils.
As for a vegetarian side dish, "Here we have some squash that we've seared really hard. You get that char on the outside and it almost tastes like meat to me," he said.
Now for some dessert!
"So here we have a mango panna cotta and it typically has jello in it but here we're using agar agar which is plant-based," he said. Some toasted coconut sits a-top.
While these meals plan on being a major draw for vegetarians, Chef Woo tells us why he's gearing the new plant-based Tuesdays towards meat-eaters too.
"That was part of the inspiration for me because I eat meat but sometimes you want to take a break and there's so much delicious food you can have without meat in it," he shared.
The menu changes every week, but it will always be served family-style.
You just take what you need and then pass it to the next person. However, it is important to note that these plant-based Tuesdays are only for those 21 and older. The price is $55 and you must make a reservation.
If plant-based foods aren't your thing, The Holiday House does fried chicken family-style meals on Fridays.
More information here: https://holidayhouseps.com/