Charges filed against a man of illegally video-taping people in grocery store bathrooms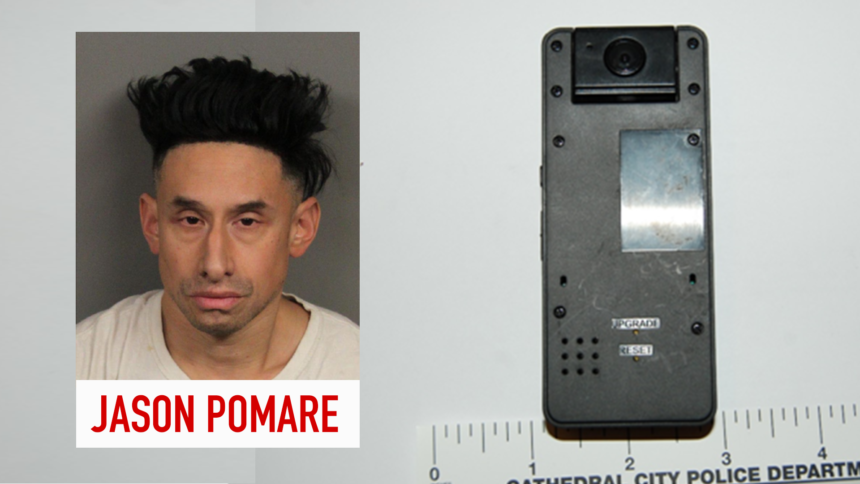 A local man charged with hiding cameras in three local bathrooms. He was at one time a registered sex offender for doing the same thing back in 2013.
News Channel 3 reviewed case court documents against Jason Pomare who now faces 13 counts against him including 3 felony charges related to child pornography.
Jason Pomare, the man accused of illegally video-taping people in grocery store bathrooms across the valley.
News Channel 3 went to the one of the locations on Friday and spoke to customers about the crime.
"It's horrible, I don't know who would do something like that," said Louis Tran, from Palm Springs.
Louis Tran learned about the convicted criminal, Jason Pomare and the similarities to previous convictions.
"And why is he still out," said Tran.
According to court documents, he's charged with three felony counts for possession of child pornography and those documents detailed the locations where the cameras were placed:the Albertson's on Sunrise, a local Chipotle Mexican Grill, and the Strater Brothers in Cathedral City.
"It can affect them for the rest of their lives if they find out about it," said Lucille Conway, from Palm Springs.
The court documents disclosed Pomare was caught on video at one of the locations installing a camera.
He was later identified, taken into custody and then allegedly confessed to the crime.

"I think that's terrible. It's a hard time to be raising kids and think about all the dangers that are with the digital media and the different ways that your child could be accosted at any moments," said Lisa Holden, visiting Palm Springs "That's awful. "
News Channel 3 learned on Friday both grocery store locations have unisex bathrooms. Pomare captured men, women, and children using the facilities on video.
"Its sad for the child and the family and as well for the perpetrator of the crime because they are obviously not well themselves because pedophilia is a disease,"said Lucille Conway, from Palm Springs.
Besides the three felonies, he was also charged with 10 misdemeanor counts of unlawful use of concealed camera to secretly videotape adults using the restroom.
"I don't think it would stop me from going here and shopping here but probably be more careful and to look around where we are going and especially for people who have kids," said Tran.
Pomare was convicted for doing the same thing back in 2013 when he was caught recording women in a Macy's restroom in Antelope Valley.
He was registered for five years as a sex offender and his bail increased to 1 million dollars.