111 coronavirus cases and 2 San Bernardino County Firefighters test positive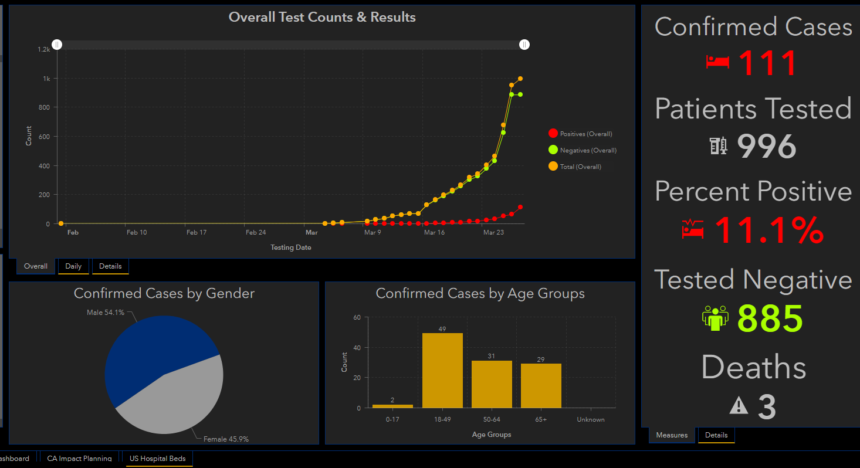 The number of coronavirus cases in San Bernardino County is now 111 and two of those cases are San Bernardino County firefighters.
According to data provided by San Bernardino County, as of March 30th, 996 patients have been tested, 11.1% tested positive, 885 tested negative. There have been 3 deaths.
2 cases are in the 0 to 17 age group
49 of the cases are in the 18 to 49 age group.
31 of cases are in the ages between 50 to 64
29 cases are ages 65+
54.1% of the cases are male
45.9% of the cases are female
San Bernardino County has also broken down coronavirus cases by city.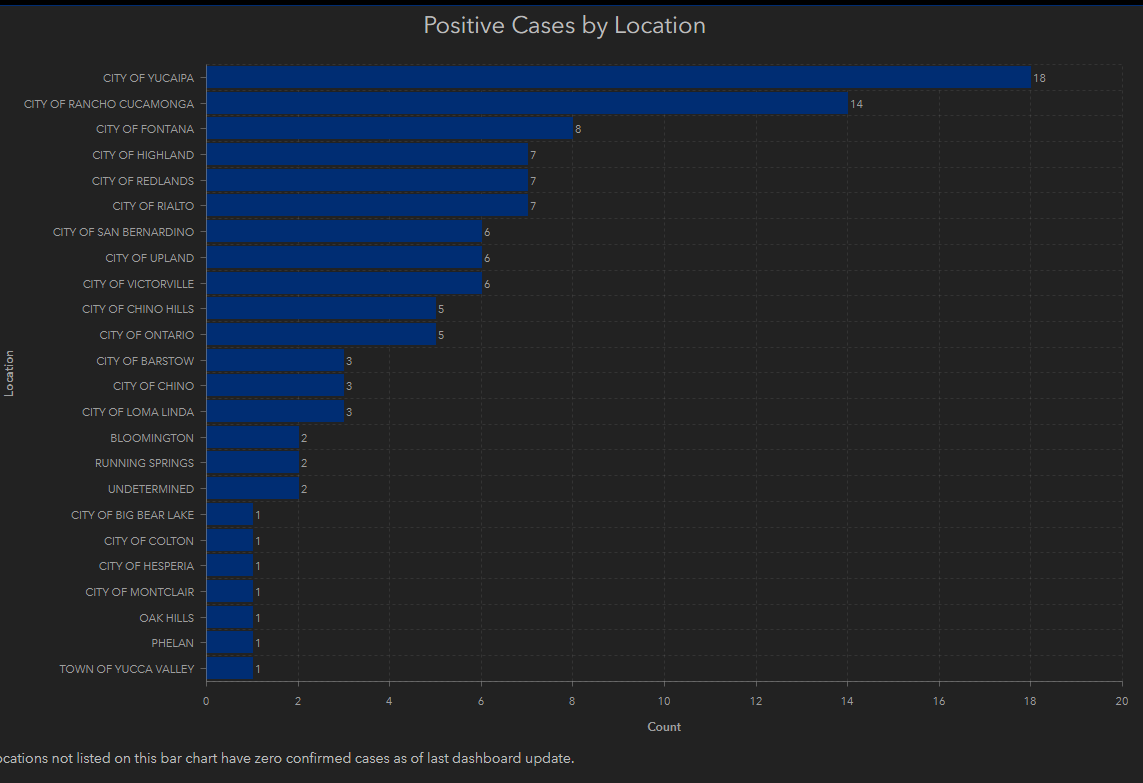 According to a news release Sunday by the San Bernardino Fire Department, the Incident Commander of the county's All Hazard Regional Incident Management Team was notified that two firefighters tested positive for COVID 19. These are the first two positive cases of firefighter first responders within the county.
The two firefighters work for two different agencies within San Bernardino County - The San Bernardino County Fire Protection District and the Montclair Fire Department.
Both firefighters entered self-quarantine due to an onset of flu-like symptoms prior to receiving test results. Currently, the firefighters are reportedly feeling well and remain in isolation.
San Bernardino County has confirmed three coronavirus deaths.
The third death was an 89 year old resident of a Yucaipa nursing home with underlying health issues. 12 residents of that nursing home have all tested positive for the virus.
"This outbreak a signal to anyone in the county who is not taking this pandemic seriously and is resisting complying with public health orders and guidelines that the threat of COVID-19 is very real," Dr. Gustafson said. "Staying at home, minimizing non-essential contact with others, maintaining social distancing from even people we know and with whom we have regular contact, and consistently practicing good hygiene is our best hope of making forward the other side of this pandemic."
Two other middle-aged men died from complications associated with the coronavirus. A 50-year-old and a 46-year-old, both with underlying health conditions.
"This is the first instance we have had in our county of a concentrated COVID-19 outbreak," Acting County Health Officer Dr. Erin Gustafson said. "The county will do everything within its ability and authority to minimize the tragedy this pandemic has the potential to create in our communities. We are testing residents and staff of the facilities and working with the California Department of Health (CDPH) Healthcare Associated Infections branch."
On Wednesday, county officials announced drive-thru testing that will be conducted by appointment only. Appointments are closed at this time, check http://wp.sbcounty.gov/dph/coronavirus/ for updates.
San Bernardino County residents can call the coronavirus hotline at (909) 387-3911 from Monday through Sunday, from 9 a.m. – 5 p.m. for general information and resources about the virus.
If you have questions about social services, call 2-1-1
Stay with News Channel 3 for continuing coverage.