Desert dental providers cope with slowdown while trade group warns of office closures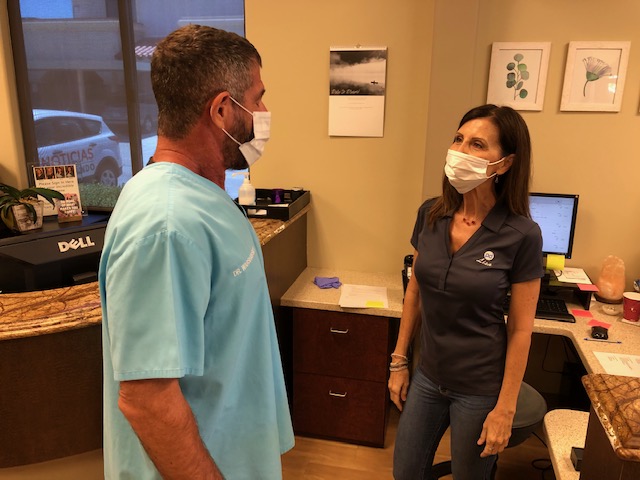 Palm Desert Periodontist, Dr. Peter Warshawsky says most of his 18 member staff has been receiving unemployment benefits for the past five weeks after being temporarily laid off.
"This is new, and everybody wants to make the right decisions for the safety of the public and the dental providers as well," said Warshawsky.
Warshawsky is optimistic that all of his staff will be back soon.
Before that happens he hopes to get more guidance from the state this week on how they'll be allowed to begin providing a full range of services once again.
"I'm very optimistic we will be able to get back to providing good dental care for our patients," said Warshawsky.
The periodontist said last week he and his staff started providing "essential" services to patients after only providing "emergency" services since the state's "stay at home" orders went into effect.
He and other dental professionals have expressed some frustrations with what they describe as "vague" guidelines from federal, state, and county officials since the pandemic began .when it comes to dental patient protocols.
Just like the counterparts in hospitals and medical officers, some dentists are having a hard time getting a hold of required personal protective equipment.
Fortunately for Warshawsky, he has the PPE's his office needs, saying he used "back channels" to get the supplies.
"It is a daily struggle looking for vendors," said Warshawsky.
While he expects his office will survive the slowdown, The California Dental Association says 25 percent of the dental offices in the state may not.
"The fact that we have not been working since the middle of March, we are not generating an income. We have all these expenses that never go away called overhead," said Dr. Richard Nagy, President of the California Dental Association.
While patients wait for their next dental exam or cleaning Dr. Warshawsky recommends brushing teeth for two minutes at least twice a day and flossing daily.
He also suggests taking Vitamins C and D3 to maintain oral health and the immune system.