Trio arrested on suspicion of stealing motorcycle, van, generator near Landers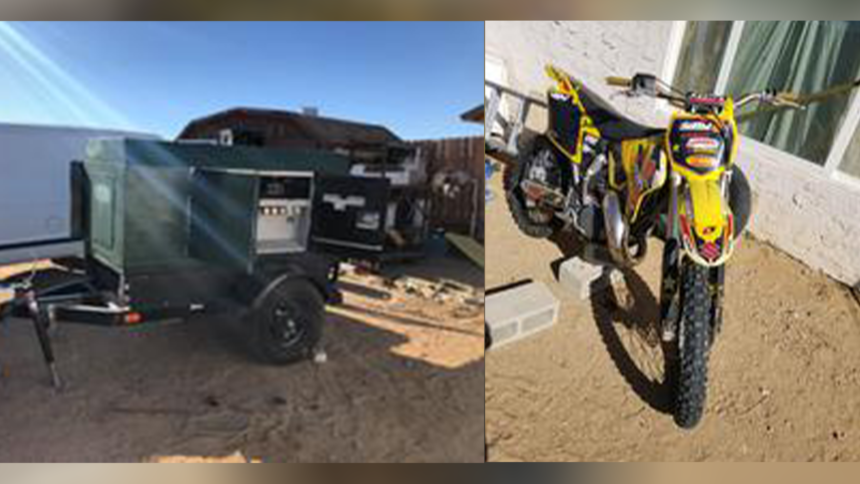 Three suspects were arrested last week in the High Desert on suspicion of a series of thefts, according to the San Bernardino County Sheriff's Department.
On February 4, SBCSD deputies from the Morongo Basin Station received a report of stolen property that was located at a residence on the 55000 block of Lilac Lane in unincorporated Landers. Upon arrival, deputies found a stolen motorcycle parked in the yard and then detained and arrested 29-year-old Landers resident Cara Marie Anderson, 41-year-old Landers resident Stelios Louis Chapman, and 43-year-old Landers resident Patricia Ann Padilla.
According to SBCSD, the property was stolen from United Rentals.
After the initial investigation, a search warrant was served at the residence, and additional property, a panel van, Wacker Neuson tow-behind generator, and other tools and items, were also located. The Sheriff's Department estimated the stolen property's valuation at over $30,000.
"Anyone with information regarding this investigation is urged to contact detectives at the Morongo Basin Sheriff's Station at (760) 366-4175," read the SBCSD release on the incident. "Callers wishing to remain anonymous are urged to call the We-Tip Hotline at 1-800-78-CRIME (27463), or you may leave the information on the We-Tip Hotline at https://wetip.com/"
Padilla and Anderson were booked in Morongo Basin Jail on $50,000 bail. Chapman's charges are pending as she was transported to an area hospital for the treatment of a pre-existing medical condition.