Father's business stolen from his children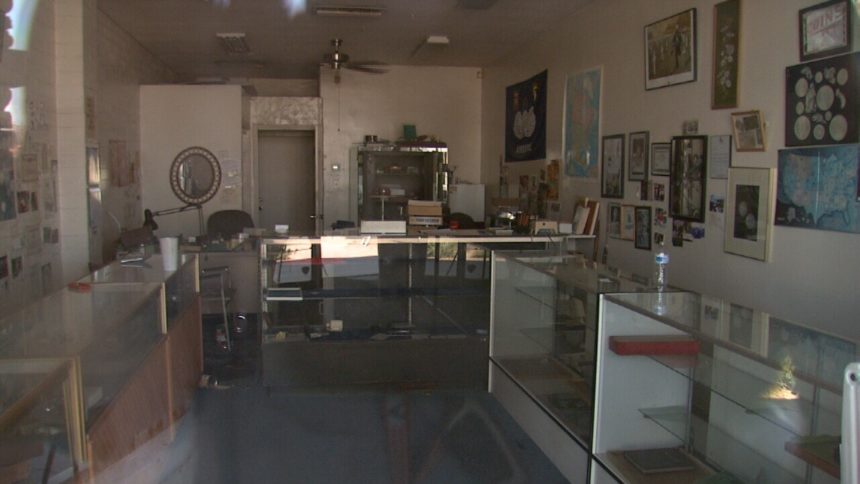 The massive mirrored safe at Steve's Coin Shop on North Palm Canyon Drive used to be filled with antique solid gold and silver coins.

Today, it's mostly empty boxes.
"My father was laying in the hospital dying and someone comes into his shop and loots it for everything that he's got," said Ursula Ahajanian, the daughter of store owner Steve Ahajanian.
"All the working capital and the cash gone. All the gold in both safes gone," said Kevin Ahajanian, Steve's son.
Steve passed away of a stroke on Sunday, May 31. His children say that while he was in the hospital the night before, someone was seen going in and out of his coin shop.
"The neighbor from the back, because there are units back there,basically came over and stated she noticed that the suspect in question was at the shop in the evening, taking papers to the car, loading stuff up," Ursula said. "And she asked the woman how is Steve doing and she just said 'I don't know.'"
The family says that woman was Steve's paid caretaker, who drove him to his appointments and ran small errands for him. They say she had no right to be in the shop without their father, and that his will leaves the entire estate to his sister and children.
But now the family can't get a hold of her.
"If I was accused of these sorts of things, I would be making a phone call back saying are you kidding me? I'm not guilty," Kevin said. "But to go to this person's house and see a note on the door. She doesn't answer phone calls and she doesn't want to talk to anybody."
Kevin says the family tried to file reports with the Palm Springs Police Department, hoping a search warrant would be issued. But they say that hasn't happened, and they feel brushed off by authorities.
"They haven't lifted a finger and they dismissed my aunt and sister. They told them it's her word over theirs and that it's a civil matter," Kevin said.
As Kevin and Ursula work to collect what's left of their father's store, they're left wondering if whoever did this to their family will come to justice.
"There doesn't seem to be any answers. There's no means to an end. There's no explanation," Kevin said.