Warburton Celebrity Golf tournament weekend benefitting St. Jude kicks off Thursday evening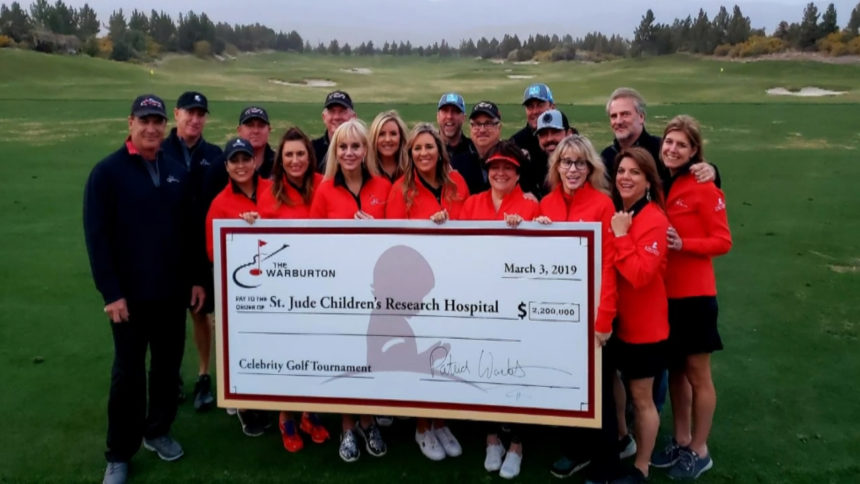 The Patrick Warburton Celebrity Golf Tournament is back this weekend to rock the desert with music, parties, and golf all to raise money for St. Jude Children's Research Hospital.
The Warburton Golf Tournament weekend brings in over 75 stars, songwriters, and rock legends for a weekend of golf and one-of-a-kind music events to benefit St. Jude Children's Research Hospital and help understand, treat, and defeat childhood cancer and other life-threatening diseases.
Hosted by actor Patrick Warburton, known for his roles in Seinfeld, Rules of Engagement, Family Guy, Emperor's New Groove, Netflix's Lemony Snicket's A Series of Unfortunate Events, Bee Movie, and so much more.
Click here to visit the Warburton auction. Bid on several items and raise money for St. Jude.
Event Schedule
Songwriters Night - Thursday at 7 p.m. at the JW Marriott Desert Springs in Palm Desert

Stars will begin arriving on Thursday evening for 'Songwriters Nights at the JW Marriott Desert Springs in Palm Desert. Renowned Nashville songwriters telling the stories behind their biggest hits, along with performing those hits. Songwriters this year will be:

Neil Thrasher - writer of hits like Fast Cars & Freedom by Rascal Flatts, There Goes My Life by Kenney Chesney, & Fly Over States by Jason Aldean
JT Harding - writer of Smile with Uncle Kracker, Different for Girls by Dierks Bentley and Sangria by Blake Shelton
Tim Nichols - writer of Live Like You Were Dying by Tim McGraw, and writer for many of Country's biggest stars.
Kelley Lovelace, co-writer of Song of the Year nominated "He Didn't Have To Be" by Brad Paisley. He has also written for some of the genre's biggest names.
Rheneypalooza Jam - Friday at 7:15 at the JW Marriott Desert Springs Resort ballroom

A rock-and-roll variety show named for event co-founder and Board Chairman, Clarke Rheney. The event features a unique line-up of Rock-and-Roll Hall of Famers and other famous rock legends performing their biggest hits.
Artists scheduled to appear includes Mark McGrath (Sugar Ray), Mickey Thomas (Starship), Don Felder (The Eagles), Al Paris (Kool & the Gang), Tom Johnston, (Doobie Brothers), Jason Scheff (Chicago), John Elefante (Kansas), Mike Mills (REM), Derek St. Holmes (Ted Nugent), Jeff "Skunk" Baxter (Steely Dan and The Doobie Brothers) and Steve Cropper (Blues Brothers and Booker T & the MGs).
There will also be surprise unannounced guests.
The Soirée - Saturday night at the JW Marriott Desert Springs Resort and Spa Ballroom starting at 5:30 p.m.

The Soirée will feature red carpet appearances by many of the celebrities involved with the tournament, as well as a dinner and music by Sixwire
Other celebrities will join Sixwire on stage for special performances, as well
The Celebrity golf tournament - Saturday & Sunday at the Celebrity Golf Tournament at the Classic Club and the JW Marriott Desert Springs

A non-spectator golf tournament, those who wish to participate in the weekend's festivities are encouraged to purchase tickets to the evening events.
Celebrities scheduled to appear and play golf include actors Richard Karn, Chris McDonald, Bruce McGill, Richard Kind, John O'Hurley, Kevin Rahm, Kevin Dillon, Dennis Haysbert, Oliver Hudson, Spencer Garrett, Andy Buckley, David Leisure, Bruce Thomas, Brian Thompson, Galen Gering, Bill Smitrovich, Patrick Fabian, Raymond Cruz, Johnathan Fernandez, John Pyper Ferguson, Mark Moses, Jeffrey Nordling, Jonathan Banks, Sam Hennings, Brian Krause, Phillip Boyd, Kurt Fuller, Nick Lea and Paula Trickey; radio personality, Rick Dees; professional athletes such as NBA legend, Scottie Pippen; gymnast, Mitch Gaylord; NFL stars Sterling Sharpe, Jim McMahon and Lamar Thomas; MLB players Eric Gagne, Kurt Bevacqua, Scott Erickson, Tommy John, David Wells and Brad Penny; and NHL Hall-of-Famer, Grant Fuhr.
"It's a very exciting year as we celebrate the 10th anniversary of this event – which we keep hearing is the best event in the desert! It's the perfect mix of celebrities, musicians, golf and unique events that aren't duplicated in way out here," said Clarke Rheney, Tournament Co-founder/Chairman and St. Jude's 2017 National Volunteer of the Year. "We have rock and roll legends, actors and sports heroes who use their star power for good, mingling with fans and doing their part to raise money and awareness for the kids of St. Jude Children's Research Hospital."
The Warburton is the top highest grossing golf tournament for St. Jude Children's Research Hospital nationwide, raising more than $12 million for St. Jude since its inception. For more information or to purchase tickets, visit thewarburton.com.
Sponsors of The Warburton include: the H.N. and Frances C. Berger Foundation, The Auen Foundation, Shakti Warriors, National Car Rental, Classic Club, JW Marriott Desert Springs, Prime Source Entertainment, Tito's Vodka, News Channel 3, Sixwire, Castelli's, MSA Productions and the Greater Palm Springs Convention & Visitors Bureau.