Vallarta Supermarkets to open new location in Indio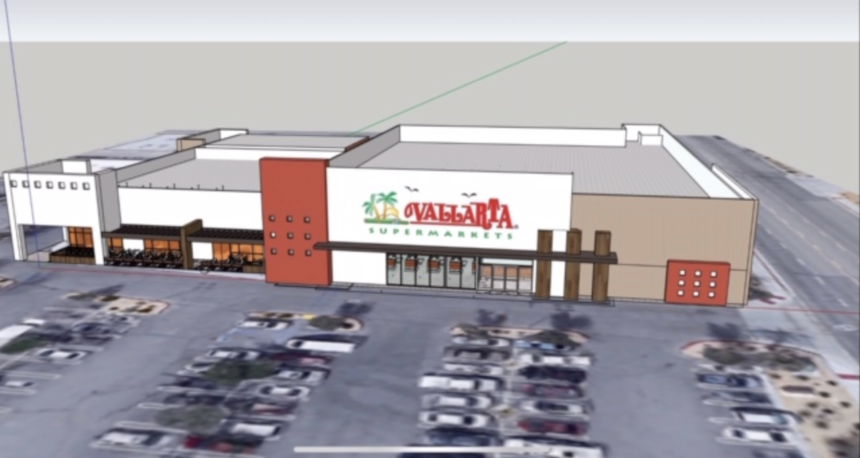 Vallarta Supermarkets are officially expanding to the city of Indio. Construction is underway at 42425 Jackson St. near Showcase Parkway. The American supermarket chain caters largely to food that is popular in Latin American cultures.
About a month ago crews began construction at the building that housed the old Marshall's.
"We have approximately a 37,000 square foot facility that's going to contain all the essentials of your typical supermarket," Vallarta Supermarkets Vice President of Finance, Adolfo Molina said.
The chain is spread all across southern and central California. The new location will be Riverside County's first, and will have amenities that are different than what its traditional stores offer.
The new store will detail the desert color scheme.
"Given the beautiful colors that we have here in the valley, incorporating the hues, the colors of the mountain, the desert, the sunset-- we've incorporated those into the color of the exterior of the store and will also be implemented in the store," Molina said.
A dining experience will also be offered.
"We will have a dining area both inside where we will have TV's to watch your sports games or outside patio," Molina said.
Some of the main attractions, however, are the grocery services that expand out.
"We'll have an in house bakery, torteria, full-service meat department, sushi bar," Molina said.
Indio residents who spoke to KESQ said they are excited for the sushi offerings.
"I live right here and my family loves sushi and we don't have to go all the way too far from here and we can just stay here close from our house and I think it is a good idea that sushi is going to be here too," Indio resident, Jazmine Torres said.
"For fresh sushi from a grocery store we have to drive out to Stater Brothers which is a couple cities away, so that would be cool, that would be nice-- a bar, a hangout spot," said Indio resident, Jade Mason.
Some were all for the additional supermarket, which many commented, will add to the variety in Indio. Then there were others that said it wasn't really necessary.
"We're kind of saturated with supermarkets right here with the Walmart and WinCo and Walgreens and CVS so there is a lot to offer here already," Mason said.
Despite differing opinions on whether the store is necessary, one thing it will bring is jobs.
"Within the next 30 days our HR team will be conducting job fairs and starting the hiring process," Vallarta Supermarkets Director of Property Management, Sandra Nunez said.
Supermarket officials said plan to hire upward of 175 people. Job creation has become a welcomed addition after the Coronavirus outbreak has left many without.
"This is a great addition to the City of Indio for a number of reasons-- in particular for all of those residents who live north of the freeway," City of Indio Director of Communications and Marketing, Brooke Beare said.
"Hopefully those are jobs that will not only go to Indio residents but to people in the surrounding communities too," Beare said.
Vallarta Supermarkets is expected to open September 2020.