Short-term vacation rentals allowed in Riverside County, but not yet for some Valley cities
Riverside County officials say short-term rentals are now allowed to resume operations in single occupancy homes.
In Coachella Valley, News Channel 3 has confirmed the city of Palm Springs will resume short term vacation rentals as outlined by the county. La Quinta is also allowing vacation rentals again. Coachella expects to resume this Saturday. We are working to find out more about the position of other valley cities.
However, some cities have additional measures in place and rentals cannot resume until the city leaders give the okay. Cathedral City also has an order restricting short term vacation rentals that is in place through June 19. Rancho Mirage city officials tell us there are limitations in place for that city through the end of June.
The ban on short-term rentals has essentially been lifted.
Also not allowed: "hotels, motels and inns, which the State of California has prohibited as part of the statewide stay-at-home order."
Riverside County officials released the following guidance regarding short term rental properties:
Rentals allowed in private homes where the guest rents the entire home and does not share any common areas with others. Home-sharing is not allowed.
No events or group gatherings are permitted until approved by the State of California. Only guests registered for the home should be on premise.
Complete a deep cleaning after each rental, using products and protocols outlined by the Centers for Disease Control and Prevention.
Ensure a 24-hour reservation gap between when a guest departs and a new arrival.
More information is available here.
"This guidance will help provide clarity to those short-term vacation rental businesses that are not included in other orders and guidance," said Vice Chair Karen Spiegel, Second District Supervisor in an emailed statement. "Business owners should take all steps necessary to ensure the safety for their guests and employees."
Tracking Coronavirus Cases
County officials also released new data showing the number of cases of coronavirus measured in Riverside County to date.
Ten more deaths and 145 more coronavirus cases were tracked in Riverside County since Thursday. Total deaths to date are 323 and total positive cases are 7,486.
There are 4,563 recovered patients and 110,358 people have been tested.
See the city-by-city breakdown for Coachella Valley by clicking here.
Getting tested
County health officials have been encouraging increased testing.
The fairgrounds in Indio is one of four county-run drive-up testing locations in Riverside County. The county says more than 100,000 Riverside County residents have been tested, which is one of the highest per-capita rates in the state.
You don't have to have symptoms to get a test. According to the county, "testing for both symptomatic and asymptomatic people provides important information about where the virus is and is not most active in the community. Testing also supports the reopening process."
The Indio testing site can perform 600 tests per day. Across all of Riverside County's 16 testing locations, more than 4,000 people can be tested each day. Find all of the testing locations and make an appointment here: www.rivcoph.org/coronavirus/testing.
Restrictions being lifted
Earlier this week, state and county officials gave the green light for barbers and hair salons to reopen their doors to customers, with modifications for safety.
More: Coachella Valley barbers and salons give first cuts since pandemic closure
It has been one week since Riverside County officials announced that California had approved the county to move into accelerated stage 2 reopening. This allowed for in-dining restaurants and malls to once again operate, however safety modifications needed to be made.
More Details: CA approves Riverside County to reopen malls, dine-in restaurants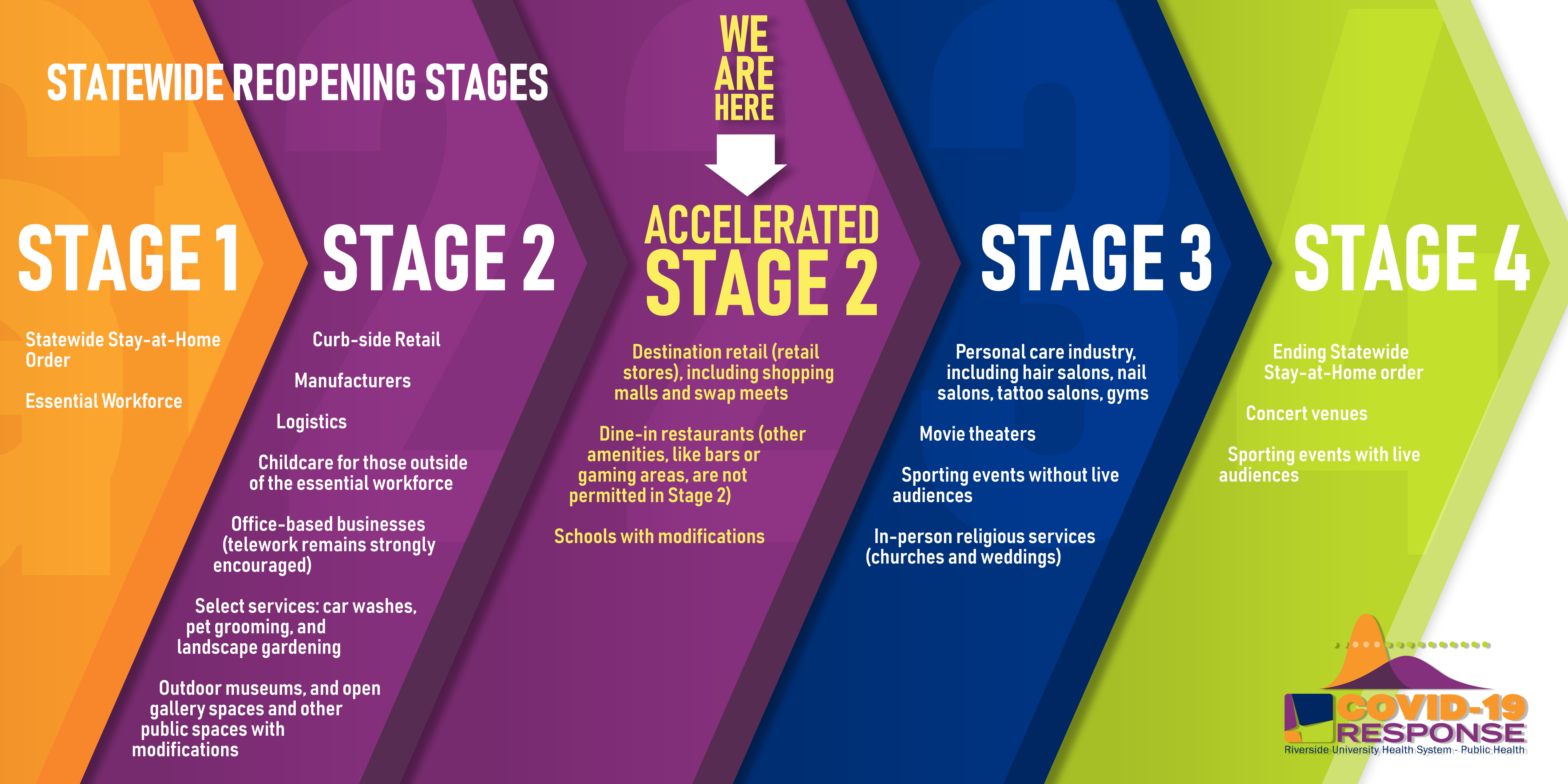 In Palm Springs, city leaders maintain that masks and social distancing are still required.
The city of Palm Springs hosted a webinar for residents Thursday morning discussing the regulations for the reopening of restaurants, retail and hair salons/barbershops.
For restaurants, single-use menus, a lack of shared table items and tables spaced six feet apart are the new norm. For retail shop owners, they say face coverings must be worn by both employees and customers inside. Hand sanitizers should be in every store. Similar policies go for hair salons.
Continuing coverage
You can find continued coverage on the Coronavirus Pandemic here: https://kesq.com/coronavirus/