Avoiding traffic backups in Highway 62 construction zone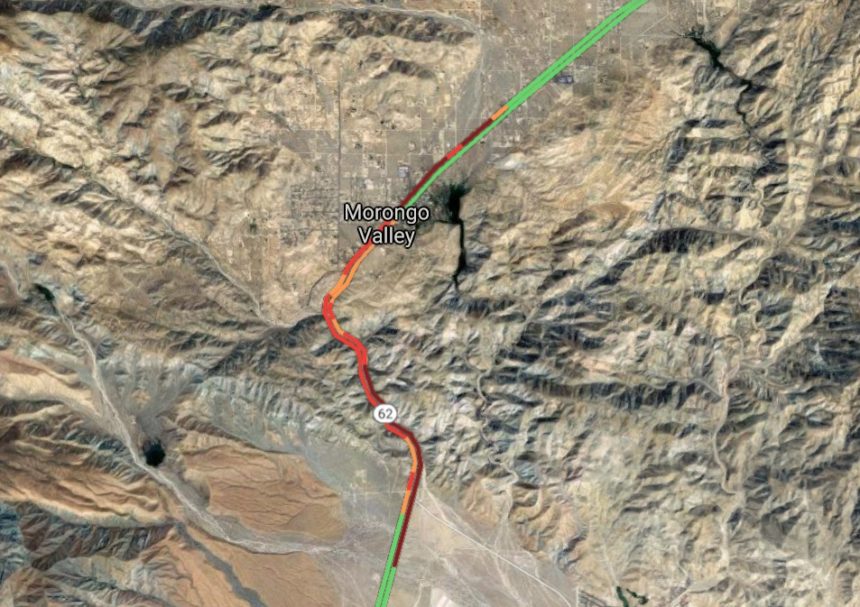 A CHP Officer motioned for traffic to slow down on southbound Highway 62 at the top of the grade in Morongo Valley, hours after the accident Tuesday morning around 7:30.
Gary. who lives outside Pioneer Town says he got caught in the backup as he was trying to get to Palm Springs for an appointment.
"The traffic was dead stopped for close to 45 minutes," said the high desert resident.
The crash happened in the construction zone where Cal Trans is performing a "pavement and grinding operation" on State Route 62.
Because of the work, which began Monday, and is expected to finish sometime Friday, single lanes of traffic in each direction are being directed to one side of the highway from the top of the grade to the bottom.
The accident caused a three mile back up for southbound traffic through Morongo Valley and impacted businesses along the highway.
"It's been ruining traffic all day, nobody is coming because they're trying to avoid the traffic, it's really bad," said Jameson Walker, owner of Dillon's Burgers and Beers.
"Everybody was at a standstill for an hour, traffic was backed up all the way to the Yucca grade," said Alison Nikyar, owner of All-American Fuel and Food Market.
Drivers who have to travel Highway 62 anytime through Friday are advised to sign up for Cal Trans traffic alerts.
The agency is also providing traffic updates on Facebook and Twitter.
That way a driver can be informed about potential trouble spots like Tuesday morning's back-up.
Those resources can also be used for any state highway or freeway, not just Highway 62.
"There is always accidents here but never this severe, which caused everybody to be late for work," said Nikyar.
Cal Trans also offers online it's Quickmap service, which shows current closures and "CHP Incidents", and another page showing "Planned Lane Closures".
To avoid any bottle neck on the 62, drivers might be tempted to use Highway 247, or by traveling through Joshua Tree National Park, or by using the 177 to reach Interstate 10.
But Cal Trans say none is a viable option and could add hours to a trip depending on the alternate selected.
While the work continues on the Highway 62, Cal Trans advises drivers to give themselves extra time on the highway to reach their destinations and to reduce speeds in construction zones to 25 miles an hour.
Cal Trans Links: