Mount San Jacinto seniors pick up graduation gear, thank teachers in emotional sendoff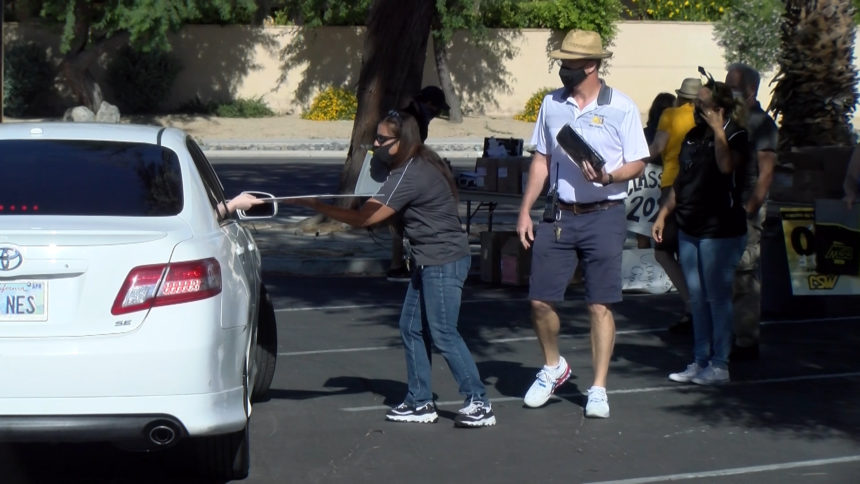 Graduating seniors at Mount San Jacinto High School in Cathedral City picked up their cap, gowns and accolades Tuesday morning.
As News Channel 3's Madison Weil reports, although this year's celebrations are different than what many expected, graduation still marks a huge achievement for many students at San Jacinto who have overcome a lot in their high school experience.
"To be honest with you I've been to lots of schools around here. But this one has really, really hit my heart," said Juan Leon, a graduating San Jacinto High School senior.
San Jacinto is the alternative high school for Palm Spring Unified School District.
"The students who come to us are the students who had some struggles at traditional sites. The staff is so proud of our students. Here this pandemic is just one more thing they have to deal with but they're getting the job done," said Brad Seiple, the school's principal.
San Jacinto grads say although they're missing out on some of the traditional celebrations, it doesn't take away from what they've accomplished.
"I understand why we can't be here and I'm okay with that. I have loved it so much here. When I talk about it...I can get emotional about it. I appreciate how much effort they put into making sure they're students are feeling good and good mentally," said Anissa Marquez, valedictorian for San Jacinto's class of 2020.
"This school is special because it's smaller and we have a chance to get to know our students. So when the shutdown happened, we already had great relationships with the kids and I think they felt a little more comfortable with communicating," said Elaine Gershenson, a San Jacinto teacher of 20 years.
Many students shared their choosing to focus on the positive. "It would have been great to be able to graduate in person but at the same it's like well at least I get to graduate in a different way than other people," said senior Charlie Gaspar.
And what they'll take with them moving forward: "The most amazing teachers, most amazing people...I got taught a lot of valuable lessons," said Leon.
News Channel 3 and Telemundo 15 are teaming up with school districts throughout our area to honor the high school graduates who won't have a traditional ceremony this year.
Join us as we celebrate graduates from Desert Sands Unified School District, Palm Springs Unified School District, Coachella Valley Unified School District and other schools in Coachella Valley.
Relive the memories, celebrate the accomplishments, and congratulate our graduates on the culmination of their high school careers. You'll see student perspectives of their generation, messages for the future from their leaders, and learn how the Class of 2020 is geared up to take on the future.
It's an incredible tribute to our students that you won't want to miss!
The 'Salute to the class of 2020' hour-long graduation special will air on KESQ and CBS Local 2 at 7:00 p.m. on May 22.
See it again on KDFX Fox Palm Springs at 7:00 p.m. on Saturday, May 23. A Spanish version will air on May 22 at 5:00 p.m. on Telemundo 15.
News Channel 3 and Telemundo 15 are gathering a digital yearbook of senior photos. Enter yours below!