El Paseo windows boarded up & traffic stopped ahead of anticipated protest march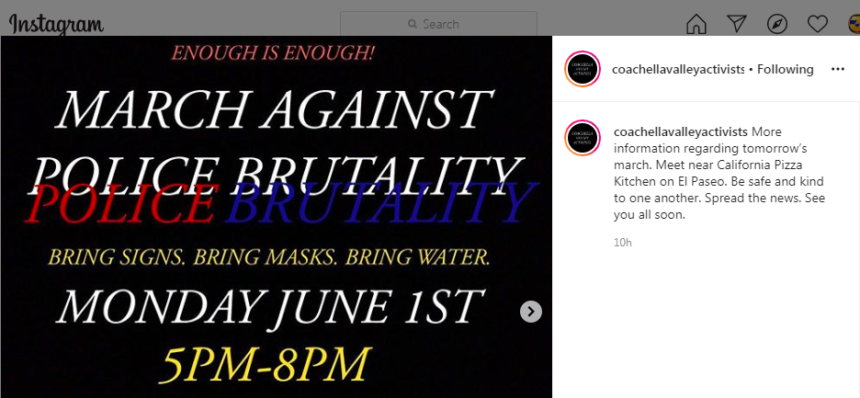 Riverside County proclaims local emergency, countywide curfew set from 6 p.m. to 6 a.m.
Crews are busy boarding up windows on some businesses on El Paseo in Palm Desert. This comes ahead of an anticipated protest Monday night.
UPDATE: Organizers have announced plans to relocate the event in Palm Desert. Read more here.
A planned march against police brutality is set to take place on Monday night, according to posts on social media.
An Instagram account called Coachella Valley Activists has been posting advisories and messages about the event. A post being shared on other local accounts reads "MARCH AGAINST POLICE BRUTALITY" and "BRING SIGNS. BRING MASKS. BRING WATER."
Palm Desert city officials have also decided to close the road to vehicle traffic. The change was announced on a three-part twitter post Monday morning.
The organizer's account also shared information discouraging any violence, one post reading in part, "... our intention is not to invoke violence. I envision a peaceful protest to showcase #blacklivesmatter."
Another post reading, "We are in no way, shape, or form promoting violence. We will spread awareness and honor those who have lost their lives to police brutality."
In response to the anticipated protest, the Palm Desert Area Chamber of Commerce edited a post on their Facebook page to alert the El Paseo area shop owners.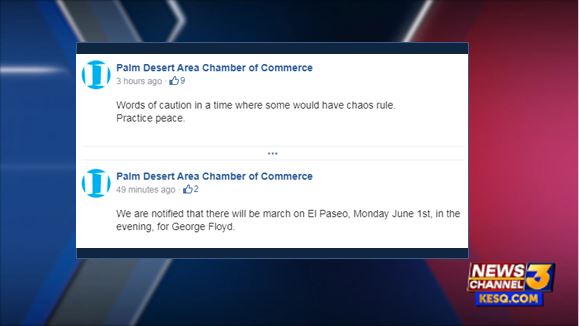 A News Channel 3 crew visited a mostly quiet El Paseo Sunday night. Two men standing in front of a store identified themselves as "valley natives" who wanted to 'guard and protect' a friend's business.
In Palm Springs, a protest demonstration began late Monday morning. News Channel 3's Madison Weil is there and reports that it is peaceful. Organizers are not supporting violence to relay their message.
People held signs, one reading, "History is watching. It's not the time to stay quiet. Silence = Compliance"
Outlets in Cabazon closed early Sunday night. According to Riverside County Sheriff spokesperson Sgt. Deanna Pecoraro, "the outlets began to close their stores down around 2:30PM today, due to Cabazon Station receiving threats of possible looting at the outlets." Deputies are in the area of the outlets.
Activists across the country and world have mobilized in marches and protests in the wake of the killing of George Floyd. Floyd was killed after a Minneapolis officer kneeled on his neck while handcuffed. While many protests have remained peaceful, others have turned chaotic and violent.
Activists are expected to meet near Ocotillo Drive on El Paseo starting at 5:00 p.m. Monday.
News Channel 3 has reached out to the protest organizers for more information.
At least two other protests are planned in Coachella Valley.
Also Monday, a planned gathering in Indio will draw attention to the deaths of George Floyd and Ahmaud Arbery.
Arbery, who was black, was jogging outside Brunswick, Georgia, on February 23 when Gregory McMichael and his son, who are white, chased him after him, authorities said. The case is being investigated as a hate crime.
There will be a few speakers from the community including the Indio Police Department and some local churches.
The vigil will be at Miles Park in Indio from 6 p.m. to 8 p.m. located at 82540 Miles Ave, Indio, CA 92201.
A group of Coachella Valley teenagers is also planning a protest. "Enough is Enough" initiative is set for Saturday, June 6, in downtown Palm Springs.
The "Young Justice Advocates" who are organizing that event, ask people to join in "this peaceful protest to spread awareness on police brutality within the black community. Any and everyone is welcome so support this cause."
"We've been organizing everything ourselves, and so far it's been going really well. Right now, we're actually planning to do an itinerary. We want to have guest speakers, mostly community leaders," said Amor Toland, one of the event's organizers.
"Participating in this protest doesn't mean that you hate the police, it doesn't mean that you're a certain type of race. It means that you're going to life one another up and you're going to stand against this injustice and unite together because we can make this world a better place," said Hina Malik, another organizer.
Stay with News Channel 3 for continuing coverage of this developing story.