Former NFL QB Ryan Leaf arrested for domestic battery in Palm Desert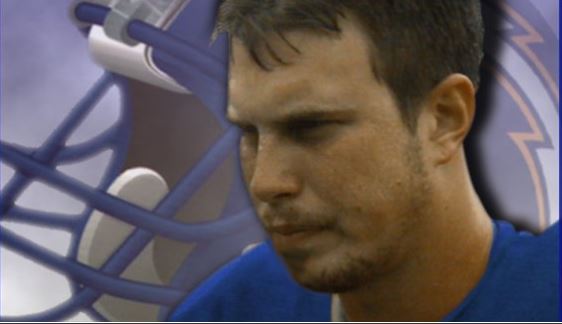 Ryan Leaf, the #2 overall draft pick in the 1998 NFL draft and ESPN college football analyst, was arrested for domestic battery in Palm Desert, according to multiple outlets including USA Today and TMZ Sports.
According to jail records, Leaf, 44, was arrested Friday at 1:59 p.m. on Grapevine Street in Palm Desert.
He is being held at the Larry D. Smith Correctional Facility in Banning on $5,000 bail.
A spokesperson with the Riverside County Sheriff's Department would not confirm whether it is the same Ryan Leaf that nearly won a Heisman Trophy at Washington State in 1997.
Jail records list Leaf at 6 feet, 6 inches tall, born May 15, 1976, with brown hair and blue eyes, matching his description.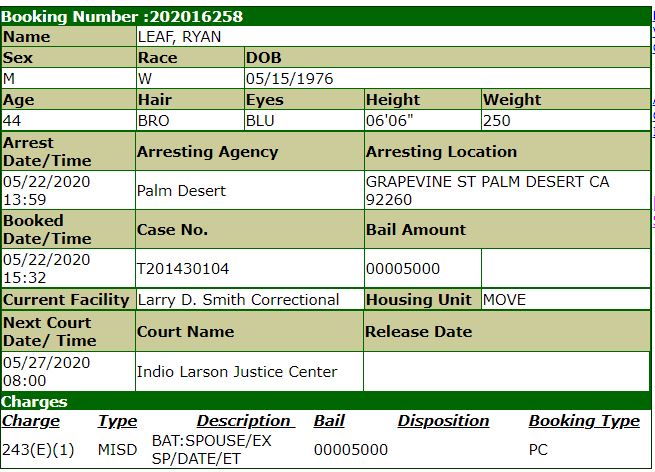 We have reached out to the Riverside County Sheriff's for additional details on the arrest but none were available as of Friday afternoon.
After a stellar collegiate career, Leaf was drafted by the then-San Diego Chargers, right after Peyton Manning.
Leaf's career was brought down by a mixture of injuries, bad behavior, and poor play. He would be out of the league by 2002 and is known as one of the biggest draft busts in NFL history.
Following the end of his career, Leaf became addicted to prescription pills.
In 2009, Leaf was indicted on drug and burglary charges in Texas. In 2012, he was sentenced to five years in prison for breaking into a home in Montana to steal prescription drugs and violating his probation. He was released in 2014.
Leaf turned his life following his time in prison. He became a program ambassador for Transcend Recovery, an addiction treatment center in Los Angeles where he worked after getting sober. In April 2020, he celebrated his eighth year of sobriety.
In 2019, ESPN hired Leaf as a college football analyst for the 2019-2020 season.